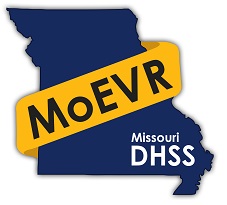 MISSOURI ELECTRONIC VITAL RECORDS
The Missouri Electronic Vital Records (MoEVR) system is designed to support the registration of Missouri vital events for the Missouri Department of Health and Senior Services - Bureau of Vital Records. This system is for professional use only by entities such as hospitals/birthing facilities, attending physicians, funeral directors, medical examiners, coroners, and embalmers. This system may be used only for the purpose for which it is provided. Any attempt to file fraudulent certificates of live birth, death, or reports of fetal death is punishable in accordance with Missouri statutes.

By accessing this system, I agree to use this system only for the purpose of registering a Certificate of Live Birth, Certificate of Death, or Report of Fetal Death for events occurring within the State of Missouri.

I understand that failure to adhere to the above agreement will result in loss of access to the MoEVR system. Any unauthorized access, misuse, and/or disclosure of information may result in disciplinary action including, but not limited to, suspension or loss of individual or facility access privileges, an action for civil damages, or criminal charges.